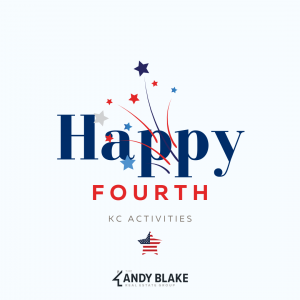 4th Of July In KC!
There are plenty of activities going on in the KC Metro this 4th of July weekend. Check out a few we've rounded up for you:
First, grab fireworks at 4001 Mission Rd, KC, KS 66103 between June 29-July 4 (9am-10pm daily) & help support the mission so dear and dear to us– Freedom Hoops in the Kansas City community. Check out there INSTAGRAM here. 
– Stars & Stripes Picnic – July 2nd – 6 pm- 9 pm – World War I Museum
– Red, White & BOOMbox – July 2nd – DJs, bar crawls and all-inclusive options to the KC Live
– 2022 Red, White & Blue Olathe Fireworks – July 4 – College Boulevard Activity Center (CBAC) 9:45pm
– 4th of July Celebration in Parkville, MO – Featuring a pancake breakfast, a skydiving exhibition, parade and more festivities before the evening's fireworks show.
– VillageFest 2022 – July 4th 7:30 am – 6 pm – Prairie Village Shops- Pancake breakfast & many activities (bounce houses, face painting, carnival rides, petting zoo, pony rides & more!)
– Overland Park Star Spangled Spectacular – July 4th 9-11 pm – Corporate Woods – Enjoy an evening of concerts, food and fireworks at Corporate Woods Founders' Park on July 4, 2022.
– Independence Day Festival in Gardner – July 4th 4:00 pm – 8:00 pm – Celebration Park Sports Complex
Have another KC celebration that you normally attend? Let us know by emailing [email protected].